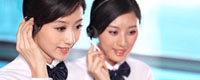 Name: Mavis
Mobile: +86-13450283758
E-mail: info@u-may.net
Skype: u-maysales
QQ: 1006358766



Product name : BMW NBT F-Series Navi Activator module

Item : 30A
Details:
BMW NBT emulator will enable NBT navigation and voice control functions on used (second-hand)
NBT units and will make it TVfree (TV-DVD function ON while drivind)


Our interface has following functions:

1. TV free modification
2. Activation of navigation function in NBT

A used CIC / NBT navigation system has a theft protection which makes it impossible to install a
used CIC / NBT Navi in a vehicle with another vehicle identification number and activation code .
For this reason, the CIC / NBT NAVI must be activated via a module.
This module also called CIC / NBT ACTIVATOR is mounted behind the lines between the Can Navis and the vehicle.
At each startup checks the GPS if it is installed in the correct vehicle . This is exactly where the filter on
Can he filters out the queries and thereby activates the navigation , voice control and DVD while driving..

Navigation and Video in Motion Activation device for

new BMW
with NBT 1(F20)/3(F30)/5(after2013year F18),6,7(after2013 year F02),x3
BMW NBT Navigation and Video in Motion Activation device for retrofitting or change
the NBT head unit on F-series cars.
No more crazy overpriced FSC codes needed for OEM Navigation and Voice control activation .
NBT retrofit plug and play activation emulator. It will allow navigation,
voice control( this function could be activated only then when unit have this function)
and video in motion if you fit NBT headunit from another car without buying expensive codes.