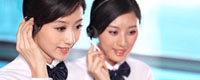 Name: Mavis
Mobile: +86-13450283758
E-mail: info@u-may.net
Skype: u-maysales
QQ: 1006358766



Product name : BMW Front PDC parking assist box

Item : 1010
Details:
This kit for the BMW with P button
BMW FRONT PDC retrofit kits for BMW 1,2,3,4,5,6,7 SER F20,F30,F10,F07,F01,F22,F34,F32
BMW Parking distance control
BMW Reversing camera emulator
Package includes:
1. PDC CONTROL UNIT
2. Plag and Play wiring harness
3. 4 PDC sensors
4. Sensor control box
Features:
1. Fully compatible with existing BMW rear PDC on F series cars
2. Use BMW orignal PDC display menu with existing rear PDC display
3. Warning sound is from car original speaker (no additional speaker is required)
4. Emulate reversing camera protocol (can add aftermarket reversing camera with CIC or NBT HU)
5. Activation control is from steering wheel button (control PDC view by using steering wheel button)
6. Deactivate when speed is over 20km/h or gear P is selected
7. Plag and Play installation
8. Paintale sensors so that you can paint it to match your colour code of your car
Compatibilities:
1.All F series cars
2.For reversing camera emulation, CIC or NBT is required
3.Head unit coding is required (V0 508 need to be added for front PDC and 3AG for reversing camera)
4.If you have a BMW F series with only have rear PDC and want to retrofit front PDC, now we are first to
offer the solution to allow you install our newly release product which can be fully integrated with
BMW OEM iDrive system.
5.This whole retrofit kit will give you everything you need for installing 4 front sensors for your BMW,
and make it work exactly same as OEM one.