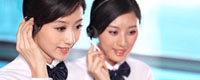 Name: Mavis
Mobile: +86-13450283758
E-mail: info@u-may.net
Skype: u-maysales
QQ: 1006358766



Product name : BMW F10 5 series mutimedia screen upgrade

Item : 1011
Details:
10.2 inch mutimedia monitor For BMW 5 series F10 2013-2014 with gps+dynamic parking+bluetooth built in
Specifications:
128MB*2 [dual core], so the runing speed are very fast
Fit for car models:
BMW F10 2013--, original maybe 6.5 inch/7 inch etc, we can use this
bigger 10.2 inch instead it
Hightlight:
•1. HD LCD: 10.2'' inch touch Screen, 1080 x 480 Pixel Screen Resolution
•2. HD Car GPS Navigation, parking guiding, BT
•3. only change the original screen, keep original CD radio
•4. Both AV-IN HD module support
•5. GPS start time: 1s(hot)/32s(warm)/38s(cold)
•6. Antenna: External antenna
•7. Dedicated GPS navigation for BMW
We only need to change the car monitor, just increasing the size of the screen,
but original car audio system not changed,unlike traditional car dvd need to
change the monitor and car radio.