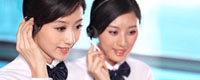 Name: Mavis
Mobile: +86-13450283758
E-mail: info@u-may.net
Skype: u-maysales
QQ: 1006358766



Unlock your 3G MMI system while driving

If you currently have the 3G MMI system with the factory fitted TV tuner then you will be familiar with the scenario where you can watch TV/DVD while the car is stationary but not when the car is in motion as the video cuts out.

Our TV in Motion interface provides a simple and effective solution to this issue by unlocking the TV/DVD system and allowing you to make full use of its features while the car is in motion. The interface simply connects to the back of your existing head unit and is 100% plug and play, no wiring cutting so there is no risk of voiding the warranty.

Installation is as easy as removing the main fibre optic plug into the back of your radio system and then connecting it to one end of the interface, then connect the other end back in its place and you are ready to go! The harnesses are made using factory connectors for complete compatibility and reliability.
Total: 9
Page: 1 / 1
First
←Previous
Next→
End